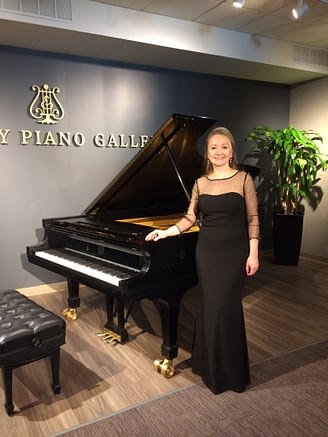 Elena Goptseva is a founder of Elena Goptseva Piano Studio.
Born in Russia, she graduated from L.V. Sobinov  Music College in Yaroslavl where she studied piano, chamber ensemble and accompaniment, and Russian State A. I. Herzen Pedagogical University in Saint Petersburg where she studied music pedagogy, voice and conducting . She holds Master's degree in music education and a Bachelor of Arts.
While in Russia, she was active as a teacher and performer. She taught piano at D. Shostakovich State School with Deep Emphasis on Music and Arts and performed as a soloist and with chamber ensemble at A.I. Herzen University.
In 2003 Elena Goptseva moved to Chicago Area where she continued her teaching and performing career as well as studying. For several years she has been a Music Teacher at various Montessori schools and a piano instructor at  "Fun with Music" company. She has performed in various recitals throughout Chicago Area. In 2008 she founded her own studio and continued studying with various classical pianists.
She has studied privately with Y. Lipmanovich ( a student of Rosina Levin) and currently studying with P. Checinski,  a concert pianist who has studied with Claudio Arrau.
Elena Goptseva is an active member of Music Teachers National Association, Illinois State Music Teachers Association, North Shore Music Teachers  Association, Northwest Suburban Music Teachers Association and Chicago Area Music Teachers Association. She currently serves as a chair of a Gold Medal Recital for Sonata/Sonatina Festival at NWSMTA.
Her students have been award winners at local piano festivals and competitions and active performers at various local recitals and events.